E-visas for Hajj and Umrah pilgrims
Earlier in March 2019, Saudi Arabia's Ministry of Hajj and Umrah announced plans to start issuing electronic visas for pilgrims, allowing them to apply online and receive their visas within minutes.
 "Currently, pilgrims who are coming from outside the Kingdom are tied to Hajj and Umrah service-providing companies and agents in their countries. The electronic visas will now be issued to these entities who will be licensed to facilitate Hajj and Umrah in these countries," Abdulrahman Shams, general supervisor of the electronic platform for Hajj and Umrah, said in an interview with MBC.
An E-Visa facility similar to the one as provided by the United Arab Emirates, will make the process easier by issuing the visas without pilgrims having to send their passports to the embassy.
However, there was no confirmation whether this facility will be provided to Pakistani pilgrims travelling for Hajj in 2019.
Earlier this year when Saudi Crown Price, Muhammad Bin Salman, came to Pakistan, Imran Khan (Pakistani Prime Minister) requested the crown price to help facilitate Pakistani Hujjaj during the visa issuance and immigration process.
Seems like Pakistan Government's negotiations with Saudi Arabia proved to be successful as the Minister for Religious Affairs and Interfaith Harmony, Dr. Noor-ul-Haq Qadri announced earlier in the year about the E-Visa facility to Pakistani pilgrims.
Saudi Arabia has started issuing e-visas for Hajj pilgrims
It can now be confirmed that Saudi Arabia has stated issuing e-visas for Pakistani pilgrims. Image shown below of the first E-Visa issued. (note: personal details like name and image have been removed to protect the identity).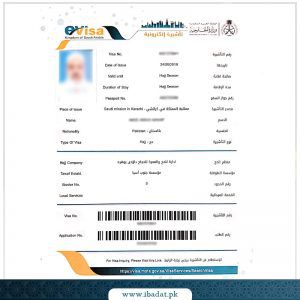 Why is this a very good development specifically for overseas Pakistanis?
This development is amazing news for overseas Pakistani's specifically those living in the Gulf countries.
In Previous years, it was mandatory for overseas Pakistanis to come for Visa processing. However, with e-visa policy coming to Pakistan just for visa processing will no longer be required.
In Previous years, it was advisable to come at-least 15 days before group departure for visa processing. Number of days required however fluctuates year on year. This meant that Pakistani expatriates had to come twice to Pakistan if they had to go for Hajj – once for visa processing and once before travel.
Now, people will just have to come to Pakistan just a few days before flight departure for Hajj. This year, as yet, biometrics are not being taken as part of Hajj visa processing. In the future, if it is mandatory for Hajj visa processing, it may require travel before Hajj or if biometrics facility is available in their country of residence, they might be allowed to give biometrics there. There is no clarity on this part.
Hujjaj travelling with Hajj Organizers who offer flights transiting from their country of residence, may not have to come to Pakistan at all. How-ever this will purely depend on the Hajj Group Organizer, flights chosen and Pakistani Government policy.
If there is a via flight that is transiting from your city of residence then we can check with the Hajj Group Organizer if you can join the group in the transiting city. E.g. If a Hajj Organizer offers Emirates in its Hajj Package and you are a resident of Dubai – then we can check with the Hajj Group Organizer if you can join the group in Dubai.