Hajj 2019 – Best Picture Contest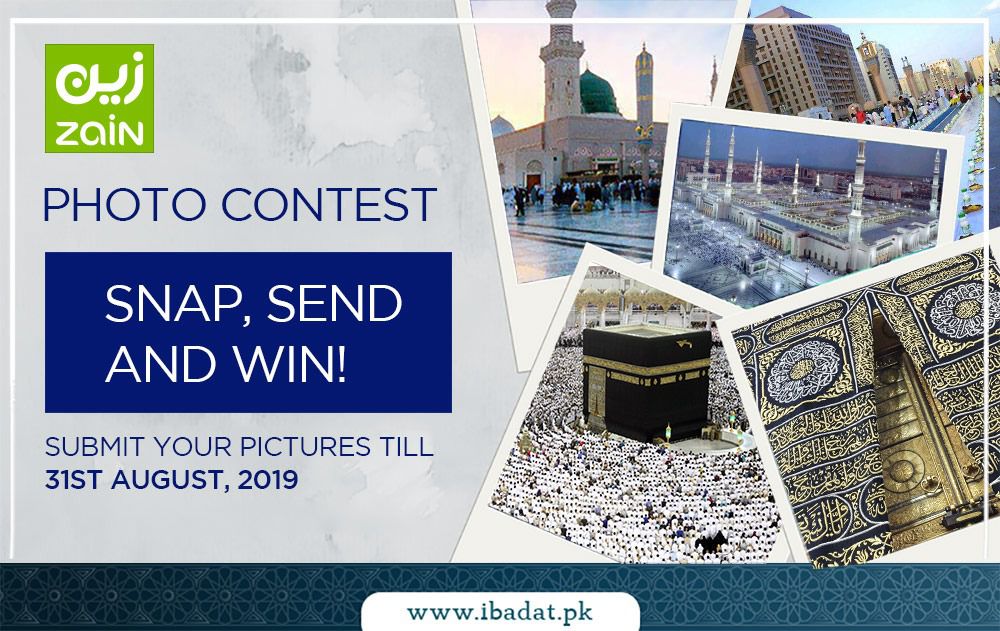 Ibadat.pk is pleased to announce Photo contest in collaboration with Zain Telecom Saudi Arabia (for the upcoming Hajj season). In an effort to show you that Zain Telecom has the best network coverage throughout Saudi Arabia, and the fact that you can take a picture or video anywhere and upload instantly, we are bringing you this Photo Contest. However please note that you don't have to be a customer of Ibadat.pk or a user of Zain Telecom in-order to enter the contest.
Summary:

Contest Dates: 15th July – 31st August, 2019
Eligibility: This competition is open to all submissions from Hujjaj travelling for Hajj in 2019
Announcement of Winner: The announcement of winners, along with the posting of the winning photograph on Ibadat's FB and Instagram page.
SUBMISSION PROCESS:
Allowed to take pictures that are Hajj related and interesting. Whatever is significant, unique, interesting and can be related to Hajj will be eligible for selection in the contest.
Share those pictures (with a short description) on your Facebook and Instagram (Instagram being optional but not compulsory), with the hashtag #IbadatPk
Make sure the pictures are public so we can view them
Like our Facebook page – Ibadat.Pk (Like Button Needed)
Tag us in the photo by using the following tag @ibadat.pakistan (will help us get a notification and your chances for selection in the contest will increase)
Once the photos are submitted using the above process – We will select the photo according to the criteria. Photos that are selected by us will be published by us (ibadat.pk's facebook and Instagram accounts)
The photo that gets the most likes and shares will win
Pro Tip: In-order to improve your chances for winning the contest do the following things in-order to win: Once we publish the photo on our page:
Tag friends in the photo posted on Ibadat.pk's FB page.
Share that post on your timeline.
Once we select the photo and share the post on our page, we will notify you by commenting on the picture submitted so that you can share with your friends and family.
TERMS AND CONDITIONS:
All images shared with the hashtag #IbadatPk will become Ibadat.Pk's property and can be reused by us
Images shared after the deadline will not be included in the contest
All the requirements mentioned above in the submission process should be followed in order to enter the contest.
The decision of the Ibadat.pk community management will be final
The profile of the person sharing the image should be genuine.

The person claiming the price will need to have a Pakistani bank account or come to our office for collection
Needs to prove that identity is the same as face-book account
PRIZES:
The prizes would be awarded to the winners 7 to 10 days after the submissions close. The winners would be announced on Ibadat.Pk's Facebook page.
All the people participating in this photo contest are competing to win the following prizes:
1st position: A cash prize of Rs.10,000
2nd Position: A cash prize of Rs.7,000
3rd Position: A cash prize of Rs. 5,000
In order to stay updated regarding this photo contest or future contests submit your details below: