Updated: 1 April 2020 | Ibadat.pk | Umrah Desk: As the global fallout due to the disastrous coronavirus pandemic does not show any signs of easing, some parts of the world try and stagger back to normalcy by reducing the restrictions of lockdown. Following the royal order by King Salman bin Abdulaziz, Mataf (open white area immediately around the Ka'bah where tawaf takes place) has been opened as of yesterday (Tuesday, 31 March). However, this will only be limited to Groups of 50 that will be allowed on to the Mataf to make just 1 Complete Tawaaf. Entrance will be restricted to Bab-e-Fahad (the King Fahad door).
Closing of Mataaf, completely disallowing Umrah for any one (locals and international Zaireen), imposing curfew, suspension of prayers at All Mosques (Except Masjid Al Haram in Makkah and Masjid Nabvi in Madinah), were all part of the many swift measures taken by the Saudi Government curb the spread of the virus by to adhering to the guidelines of social distancing.  Due to this spread of the virus in Saudi has been well controlled (To date: 1,536 confirmed cases, 10 fatal cases).
Updated Protocols for the Two Holy Mosques
According to sources in Saudi Arabia, provided below are the current restrictions in place for any one (only current residents allowed) planning to visit Masjid Al Haram (Makkah) and Masjid Al Nabwi (Madinah)
Restriction on worshiper visiting Masjid Al Haram (Mecca):
Worshippers will not be allowed inside Masjid Al Haram for the duration of curfew (3 PM – 6 AM).
Worshippers will not be allowed to pray on the roof, courtyards or the entire King Abdullah extension
All prayers will continue as normal (Behind closed doors during curfew time)
Tawaf will be limited to Groups of 50 that will be allowed on to the Mataf to make just 1 Complete Tawaaf.
Umrah remains suspended until further notice for everyone.
People wearing Ihram will not be allowed inside Masjid Al Haram
All Zamzam Fountains and coolers are closed
No one will be allowed to Sleep or perform Itikaf.
Restriction on worshipers visiting Masjid Al Nabawi (Madinah):
Masjid Al Nabawi will remain closed for all worshippers and visitors until further notice. – Prayers will continue to be led with small congregation behind closed doors.
---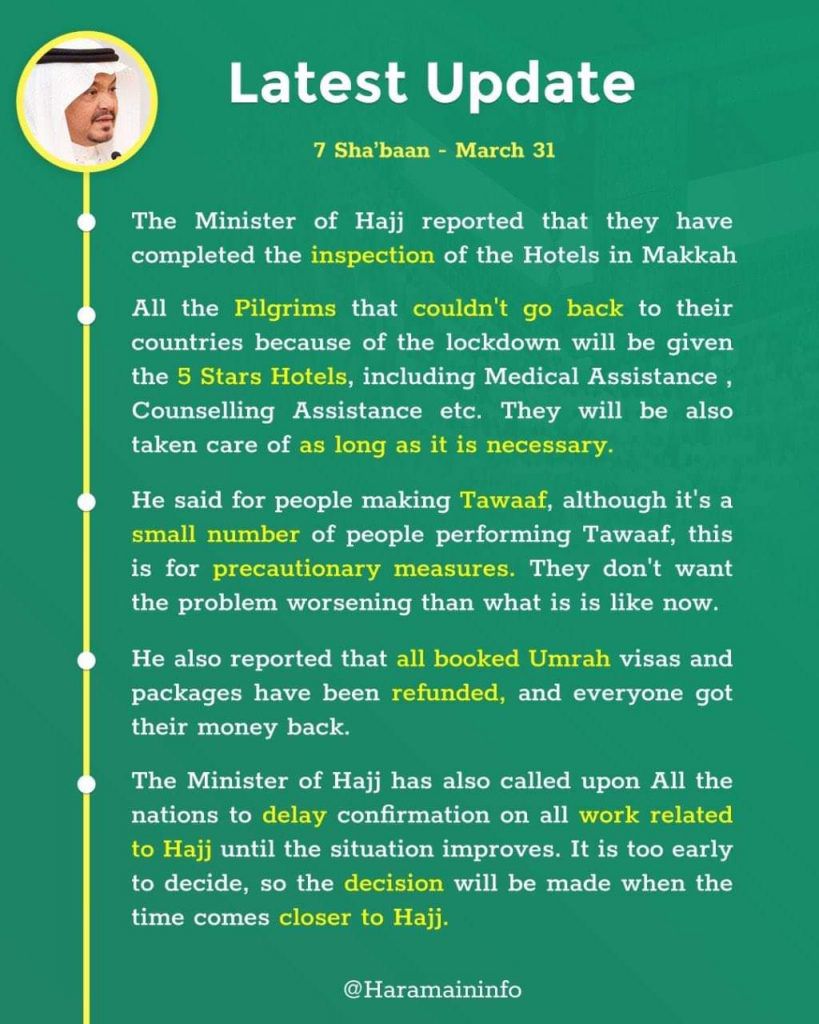 Updates by Minister of Hajj (Saudi Arabia)
The Minister of Hajj reported that they have completed the inspection of the Hotels in Makkah
All the Pilgrims (Umrah Zaireen) that couldn't go back to their countries because of the lockdown will be given the 5 Stars Hotels, Medical Assistance, Counselling Assistance etc. They will be also taken care of as long as it is necessary.
Only a small number of people will be allowed to preform Tawaaf as precautionary measures.
He also reported that all booked Umrah packages and visa have been refunded, and everyone got their money back.
The Minister of Hajj has also called upon all the nations to delay confirmation on all work related to Hajj until the situation improves. It is too early to decide, so the decision will be made when the time comes closer to Hajj.