Updated: 2 April 2020 | Ibadat.pk | Umrah Desk: Saudi Arabia imposed a 24-hour curfew in Mecca and Medina on Thursday [2 April 2020], the interior ministry said, extending measures taken to combat the spread of the coronavirus, which has infected more than 1,700 people and killed 16 in the country.
Just when it was thought that Saudi Authorities were trying to bring back some normalcy by easing selected lock down restrictions in the two Holy Cities like reopening of Mataaf for a limited number of people, Saudi authorities tightened curfew in the holy cities of Makkah and Madinah.
Official News Account of Makkah region (Emirate of Makkah) reported this development on twitter.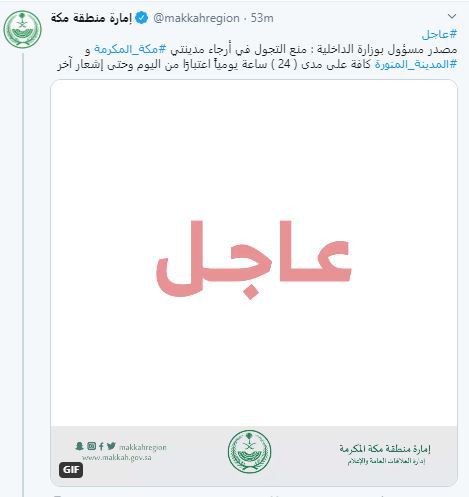 The curfew had previously been from 1500 (3 pm) to 0600 (6 am). Residents in both cities may leave their homes only for necessary reasons such as buying food and for medical care only between the hours of 6 a.m. till 3 p.m. However, Residents going out must remain within their residential area.
The official said curfew exemptions still apply to those in vital public and private sectors such as security, military and media. Those who work in health services are also excluded from the curfew.
Fallout from the highly infections coronavirus is showing no signs of easing as the number of confirmed coronavirus cases reported around the world is approaching a million.